The Role of a Facility Strategist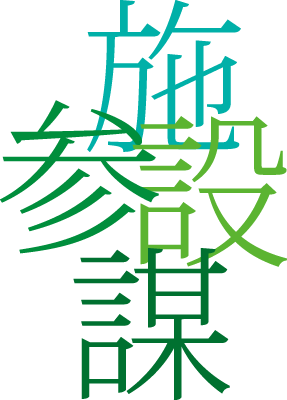 Yamashita PMC is your Facility Strategist for supporting the arrangements and facilities you need to implement your vision.
Creating a facility is a project that involves a myriad of companies and people engaged in design, construction and more. The architectural work is particularly specialized and complex, and many proprietors who are the clients struggle to communicate with the parties involved. As your Facility Strategist, Yamashita PMC stands at your side with our expertise and experience in putting up facilities to expedite communications with project participants by clarifying their messages for you while moving the project forward.
What is a Facility Strategist?
The basics of project management (PM) and construction management (CM) are to control quality, costs and deadlines while managing the overall facility construction project. We have absolute confidence in our ability to produce streamlined project designs and implement them with great precision. But this is not all that it means to be a Facility Strategist.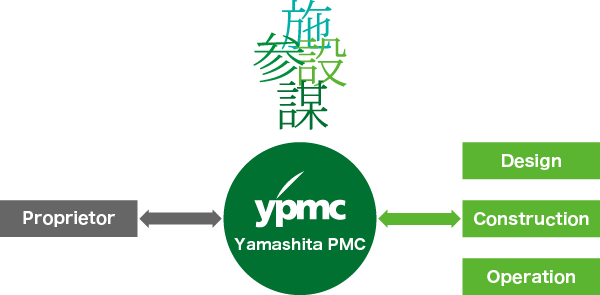 The administrative and business needs of our clients have no end. You may want to make a new business model more widespread, boost your earnings power or improve your business environment. Because nobody works closer with clients than us, Yamashita PMC gets involved from the early phases of a project to understand and sort out your various needs while connecting them to a business strategy. We can then integrate these plans into the facilities strategy you need to operate your business.
"Providing clients and the public with the mechanisms and facilities to translate a vision into reality"
These words encapsulate the mission and objectives we pursue as a Facility Strategist.
The work and value of a Facility Strategist
Facilities and real estate are important assets and critical business resources for the proprietor. They are generally built according to a medium- or long-term business plan, and delivering profit to the proprietor is a must. Typically, a proprietor will have separate consultants for supporting administration and construction. What they have been lacking, however, is a specialist capable of combining both business strategy and facility strategy to manage a construction project. Hence the need for a Facility Strategist.

Yamashita PMC takes thorough stock of the client's needs, seeds and wants from the early phases of a project to create a business strategy. We combine business and facility strategies to understand the entire construction project in terms of QCDSR and then solidly implement. We provide the arrangements and facilities to bring the client's vision to fruition. This is the mission of a Facility Strategist. Here lies Yamashita PMC's advantage, as no other consulting firm can keep pace with what we do.
Q:Quality C:Cost D:Delivery S:Service R:Risk
We always think from the perspective and point of view of the client ordering the project. That also means potentially suggesting that the client not build the facility. The construction industry offers services premised on the assumption that facilities are going to be built. But we prepare a holistic CRE/PRE strategy that considers the business, assets and facility operation all as one. That means we can offer project solutions other than new construction. For example, we may come up with a combination of suggestions such as: interior renovations that leave the exterior as is; a conversion; an expansion, reduction or demolition; embracing the idol economy that makes effective use of dormant space. At Yamashita PMC, the client comes first, so we are constantly exploring the best answers for you, regardless of any preconceived notions or stereotypical thinking.
The advantages of a Facility Strategist
Advantage #1
A pioneer of construction management in Japan
Yamashita PMC was founded in 1997 as the first specialist project management (PM) and construction management (CM) firm in Japan. As a leading company in the field, we have worked on some enormous projects. In the meantime, we have established the way to do CM/PM in Japan as we constantly update it. The variety of projects we have handled have included many large jobs with budgets of 50 billion yen or more. Projects currently underway total more than 3 trillion yen in cost.
Advantage #2
Always at the client's side to personally provide services
Yamashita PMC has teams of experienced personnel for design, architecture, equipment configuration, construction, monitoring and more to handle every phase of construction. We always stand alongside the client ordering the project. For construction projects involving a good deal of difficult terminology, we convert that jargon into language the client can easily grasp as we facilitate communication between the client and the contractors (designers, builders, manufacturers, etc.). By taking in the client's perspective and point of view and applying flexible thinking and execution, we hand over a constant stream of services to solve problems and implement your vision.
Advantage #3
We always form the best team to implement the project and utilize our knowledge and experience without creating copies of other structures.
Yamashita PMC's managers possess vast knowledge and experience in not only architecture, but also real estate, administration, finance and other fields. Before carrying out a project, we select the best among them in accordance with the project's characteristics and what the client wants. Furthermore, we strictly adhere to a neutral, objective stance when selecting designers and builders.
We never, ever provide one-size-fits-all services. Members and services are customized for each project in our pursuit of value that exceeds client expectations.